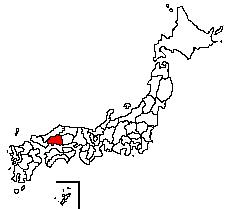 ---

This Prefecture's Symbol


広島 - Hiroshima
Prefecture's Bird: Abi
Prefecture's Tree: Maple
Prefecture's Flower: Momiji
CAPITAL : Hiroshima
The A-bomb Dome is the ruins of the former Hiroshima Prefecture Industrial Promotion Hall which was destroyed by the first atomic bomb ever to be used in the history of humankind on August 6, 1945.
The atomic bomb was detonated in the air at an altitude of approximately 600 meters almost right over the hall. the explosion by a single bomb claimed the lives of over 200,000 people and the city area of about 2 km radius turned into ashes. In order to have this tragic fact known to succeeding generations and to make it a lesson for human kind, the reinforcement work of the ruins has been done by the contributions of many people who desire peace within and out of the country. The ruins shall be preserved forever.
- August 6, 1967 Hiroshima City
Walking from the Genbaku Domu, you will see the Flame of Peace and the Peace Fountain .

Hiroshima Peace Memorial Museum - displays belongings left by the victims, the history of that day, and the story of Hiroshima's reconstruction. Once you see this I seriously doubt you can be the same. There is a tape availiable in 15 languages for 150 yen.
Admission: Adults ONLY 50 Yen; Children 30 Yen (as of year 2000)
Holidays: Dec. 29 - Jan. 2
Hiroshima Museum of Art - A very nice collection of European Art including Millet, Monet, Manet, Renoir, Matisse, van Gogh, Picasso, Chagall...
Admission: Adults 1000 ; Students 500; Children 200 Yen (as of year 2000)
Holidays: De