Cut-Tongue Sparrow Part 5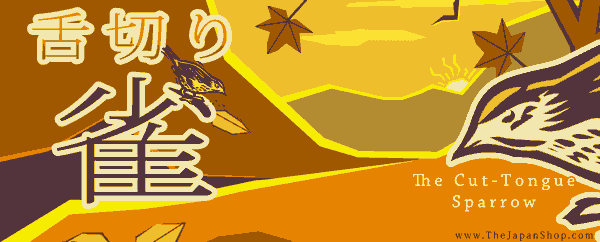 (Support TJP! Purchase this as a $5 download to receive a slow and normal MP3, Interactive Flash e-book, and a printable PDF)
雀は、奥からつづらを二つ出してきて、おじいさんにたずねました。

「こちらに重いつづらと、軽いつづらがあります。どちらがよろしいですか?」

おじいさんは、「私は、もう年だし、帰りのみちのりも遠い。軽いつづらにしよう。」

こういって、おじいさんは、軽いつづらをもって帰りました。

おばあさんは、おじいさんの帰りが遅いので、「いったいどこへいったのだろう。」とぶつぶついいながら待っていました。そこへ、おじいさんがおみやげのつづらをもって帰ってきました。

「おじいさん、いったいどこへ行っていたのですか?」

奥から oku kara From the back
つづら tsuzura Basket; chest
二つ futatsu Two (trunks)
出してきて dashite kite Brought out
たずねました tazunemashita Asked
—
こちらに kochira ni Here we have…
重いつづら omoi tsuzura A heavy trunk
と to And
軽いつづら karui tsuzura A light trunk
があります ga arimasu There are…
どちら dochira Which
どちらよろしいですか? Dochira yoroshii desu ka? Which would you like?
—
もう年だし mou toshi da shi I'm already old and...
帰りの道のり kaeri no michi nori The distance back home
遠い tooi Far
~にしよう ~ni shiyou I choose ~
—
こういって kou itte saying that, he…
もって帰りました motte kaerimashita Carried (trunk) and went home
—

帰りが遅い kaeri ga osoi Being late in returning
ので node Therefore
いったい ittai Just what is…?
どこへいった doko e itta Where did he go?
だろう darou I wonder…
いったいどこへいったのだろう ittai doko e itta no darou I wonder just where did he go?
ぶつぶつ butsu butsu Murmuring , complaining
いいながら ii nagara While saying…
待っていました matte imashita Was waiting
そこへ soko e There (at that moment)
おみやげ omiyage Souvenir; gift
—
いったいどこへ行っていたのですか? ittai doko e itte ita no desu ka? Just where have you been all this time?!

This story is from the $5 Instant Download Japanese Readers collection at TheJapanShop.com.
While the complete story is here for free, If you purchase the pack you will get 31 Megs of:

An E-Book in Flash for interactive reading and listening


A 21 Page PDF (for printing)

A slow MP3 recording of the story

A normal speed MP3 recording

And as a special bonus, "10 Kotowaza You Should Know" with PDF and 10 MP3s of each example sentence