どした should be どうした (though the shorter version is probably acceptable for colloquial language, such as here.)
---
Posts: 9
Joined: Mon 04.28.2008 6:24 pm
Oh, okay.
Thanks for letting me know!
---
I would like to thank every member of this site, every sentence written is helpful and the various comments are so clear. I hope to become as clever as you, one day!!!
---
This doesn't really has something to do with practicing with manga but I just m=wanted to know if this sentence was right...

私はミリアムです。私はMontréalに"漫画で日本語を学ぼう"を買った。その本は本当にいいですよ。そして、本当にかわいいな服を買った。

I wanted to write "I am Myriam(I know this part is right though). In Montréal, I bought "Let's learn Japanese with mangas". This book is really good. I also bought a really nice "piece of clothing".

This is a totally useless sentence but I wanted to know if my grammar was correct.
---
I think this is a really cute idea, btw.
---
Mime777 wrote:私はミリアムです。私はMontréal

に

"漫画で日本語を学ぼう"を買った。その本は本当にいいですよ。そして、本当にかわいいな服を買った。
私はモントリオールで「漫画で日本語を学ぼう」を買いました。
で is used to indicate the (general) location of an activity. Also, you should generally avoid switching between polite form (です) and plain form (買った.)
Also, you shouldn't hijack threads. Don't be afraid to start up your own thread.
---
Well, this isn't really for studying or anything, but since it is manga-ish and in Japanese, I thought I'd post it.
This image is sorta big.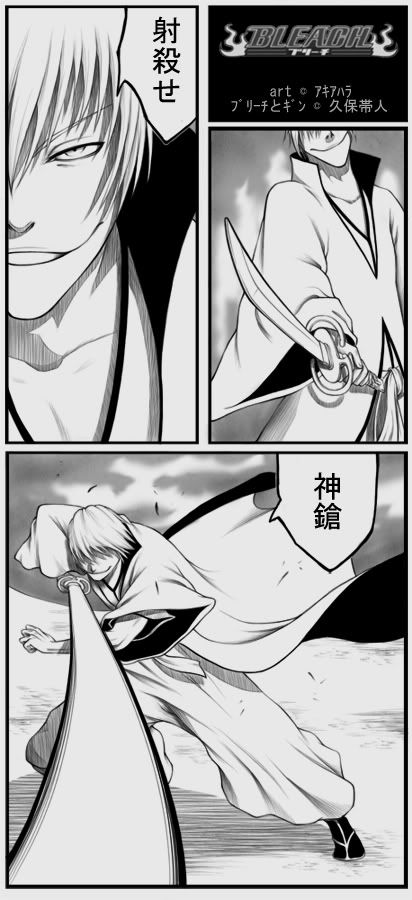 これは市丸ギンです。ブリーチ漫画から。
Ichimaru Gin... from the Bleach manga.
He says... "ikorose"... "shinsou". I'm not familiar with these kanji, but they're from the manga, so I don't know if the usage is irregular. I believe the translation is "shoot to death/to kill, divine spear."
---
Ooh, I like.
Gin: cooler with eyes open or eyes closed? Who knows, but he's pretty creepy both ways
According to
プログレッシブ和英中辞典@yahoo
, 射殺せ is "shoot to death" (or "shoot them dead") rather than "shoot to kill" ... the difference being that obeying the former actually requires you to kill rather than merely have the intent.
The kanji for "spear" is slightly atypical; according to edict
槍
is in modern use, while the kanji 鎗 (with 金 on the left) is an archaic version.
---