View topic - Vibrant Advertisements O_O
Hello.
I've always noticed a HUGE difference between an American potato chip bag compared to a Japanese potato chip bag when I go to my famous Japanese store I go to. So, I was just wondering if the Japanese are spending more time to catch a person's eye with such a COLORFUL and CUTE bag compared to America's.... really boring bags.

I've noticed that with A LOT of Japanese food products and even on hair dying kits too! Is this sort of a signature thing Japanese people do with their products and goods? What's sold in America looks sucky and half the time I don't really feel compelled to buy it over the SAME thing but in a more Japanese "jump out at you" theme.
我是老师。我是老师。我是老师。我是老师。我是老师。我是老师。我是老师。
lol
~ハトリ~
Posts: 949
Joined: Thu 10.13.2005 10:31 pm
Location: Chicago Suburbs
Native language: English
Gender: Female
---
Marketing and PR companies in each country know the population and culture and spend a lot of money researching how to package things to appeal to them. Boring packaging must be what people in the US want..
Posts: 537
Joined: Mon 02.13.2006 9:03 am
Native language: English
---
That's not always true. Here's Cheetos in America:
And Cheetos in Japan: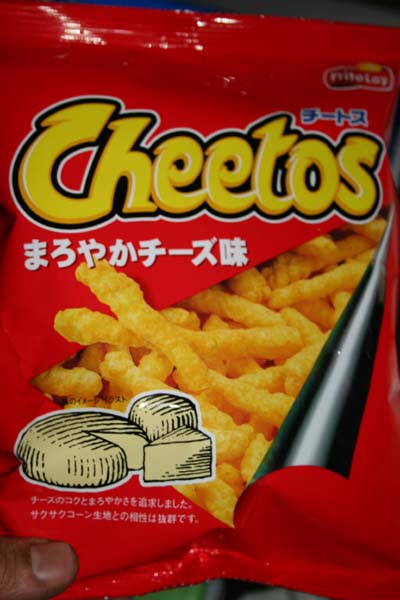 Last edited by
keatonatron
on Wed 03.21.2007 2:50 am, edited 1 time in total.
Posts: 4838
Joined: Sat 02.04.2006 3:31 am
Location: Tokyo (Via Seattle)
Native language: English
Gender: Male
---
keatonatron wrote:

That's not always true. Here's Cheetos in America:

And Cheetos in Japan:
But,...
POTATO CHIPS!
Mmm... I ate some Cheetos at lunch today. Anyways, it seems that there are more jumpy designs in Japan it seems like, but there is also American things that are eye openers.
我是老师。我是老师。我是老师。我是老师。我是老师。我是老师。我是老师。
lol
~ハトリ~
Posts: 949
Joined: Thu 10.13.2005 10:31 pm
Location: Chicago Suburbs
Native language: English
Gender: Female
---
---
Return to Culture and Info about living in Japan
Who is online
Users browsing this forum: No registered users and 4 guests