View topic - What does this mean.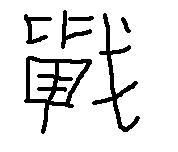 i found this on a wooden sword but have been unable to find what it means
it was followed by an い
If anyone is able to tell what it is from my dodgy drawing
then id love to know
thanks
ph3nd
Posts: 19
Joined: Wed 08.01.2007 11:57 am
---
Well, I think you got it a bit wrong, it's probably 戦い, which means "fight".
Posts: 413
Joined: Sat 12.13.2008 11:40 am
Location: France
Native language: French
Gender: Male
---
Posts: 90
Joined: Mon 07.28.2008 5:34 am
Location: Europe
Native language: British English
Gender: Female
---
id be inclined to aggree with you kurisuto

im just taking a photo of it now so ill post that in a minute
Last edited by
ph3nd
on Fri 02.13.2009 11:23 pm, edited 2 times in total.
Posts: 19
Joined: Wed 08.01.2007 11:57 am
---
I have to agree with it probably being 戦. According to Henshall (
A Guide to Remembering Japanese Characters
), the old form has two 口 over the left side, not 比, but possibly the OP has mistaken the 口 for 比 because of the way the 口 are written on the sword.
Posts: 6480
Joined: Thu 09.29.2005 10:35 pm
---
there thats the character in question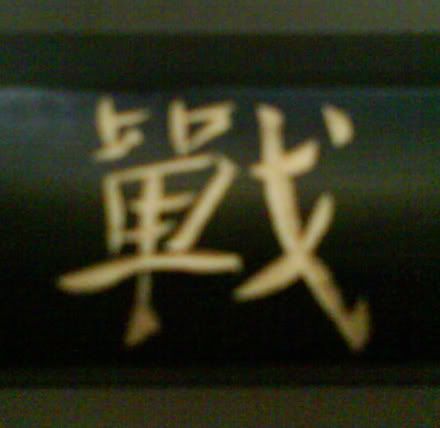 Posts: 19
Joined: Wed 08.01.2007 11:57 am
---
---
Posts: 19
Joined: Wed 08.01.2007 11:57 am
---
---
Return to Translation Questions or Discussion
Who is online
Users browsing this forum: No registered users and 5 guests