View topic - There are No Exits
I took this photo a few years ago, but riding the train back from Osaka this morning (to get Megumi-chan's American passport), I saw it again. EDIT: This was on the back of the seat in front of me on the JR Thunderbird train (Hokuriku line).
Just read the English:
Information of the Exits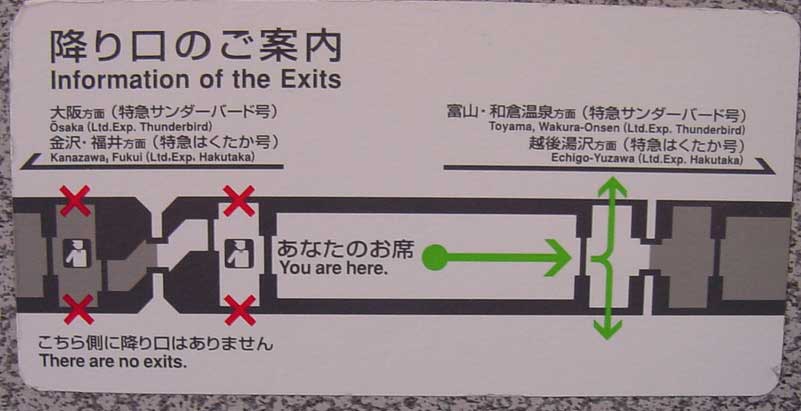 There are no Exits
Site Admin
Posts: 2810
Joined: Fri 01.21.2005 9:39 am
Location: Florida
---
Remind me never to ride the Thunderbird
I love Engrish! This is one of my favorites: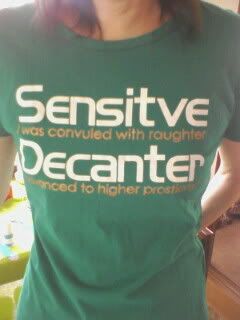 It has everything: a crazy nonsensical message, random misspellings, transposed L-R, and weird made up words, prostiony? convuled?
そうだ、嬉しいんだ、生きる喜び!
例え胸の傷が痛んでも。
Posts: 3402
Joined: Sat 04.19.2008 10:09 pm
Location: Hyogo, Japan
Skype chat: yes_becki
Native language: U.S. English, 米語
Gender: Female
---
clay wrote:

There are no Exits
Is there at least a spoon?
I'm just imagining the next Japanese Horror Movie
サンダーバード21「There are no Exits」
btw, as an aside, did you ever find it weird how the train going to fukui is called the サンダーバード and the train going away from fukui is called the 雷鳥?
Posts: 2964
Joined: Tue 06.14.2005 3:24 am
Location: Gifu, Japan
Native language: (poor) English
---
Site Admin
Posts: 2810
Joined: Fri 01.21.2005 9:39 am
Location: Florida
---
Wow, this would make me feel depressed and I didn't have a diagram to look at. XDDD
~ハトリ~
Posts: 949
Joined: Thu 10.13.2005 10:31 pm
Location: Chicago Suburbs
Native language: English
---
---
Return to Culture and Info about living in Japan
Who is online
Users browsing this forum: No registered users and 6 guests