View topic - konniciwa minasan
Konnichiwa minasan, watashi wa atarashii ni "The japanese Page". watashi no namae wa Anti-Jenova desu, Watashi wa Final Fantasy ga suki........eeto soushite anime to manga ga suki mo.
Nihongo wa omoshiroii desu to watashi wa nihongo no hou ga suki, yori furansugo

Please correct because its pretty much guarenteed to be wrong as i cant spell and im not sure about the last part but i will ganbaru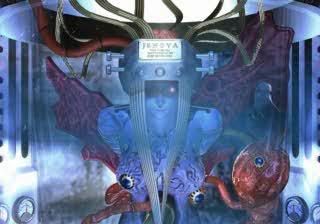 Posts: 2
Joined: Sun 12.04.2005 1:55 pm
---
Posts: 536
Joined: Tue 08.16.2005 8:13 am
Location: Norway
Native language: Norwegian
---
Konnichiwa Anti-Jenova, hajimemashite!
Posts: 33
Joined: Fri 12.02.2005 10:16 am
---
Anti-Jenova wrote:

Konnichiwa minasan, watashi wa atarashii ni "The japanese Page". watashi no namae wa Anti-Jenova desu, Watashi wa Final Fantasy ga suki........eeto soushite anime to manga ga suki mo.

Nihongo wa omoshiroii desu to watashi wa nihongo no hou ga suki, yori furansugo

Please correct because its pretty much guarenteed to be wrong as i cant spell and im not sure about the last part but i will ganbaru
hajimemashite, anti-jenova-san! Douzo yoroshiku onegaishimasu.
I think you did a great job on your first attempt at japanese communication! It isn't perfect, like you said, but everyone has to start somewhere. I still consider myself a beginner, even though I've been working at it the better part of a year now.
Some of your trouble is the need to leave behind english sentence structure. You're trying to translate on a word-for-word basis (mostly). That just doesn't work. Also, japanese likes to leave out the subject if it's understood in context. So they don't use "I" as often as we english speakers do.
The 'mo' particle won't go at the end of a sentence like the english word "also" would. It goes after whatever is additional. For instance, manga mo ga suki desu. I believe "watashi wa Final Fantasy ga suki desu. eeto... anime to manga mo ga suki desu." would be more appropriate.
'to' is for saying 'and' in things in a list, but not to connect sentences. Your last two sentences do not need to be connected at all, in fact.
Nihongo ga omoshiroii desu. Nihongo no hou ga furansugo yori suki desu.
Japanese is interesting. I like japanese better than french. (Japanese is more likeable than french is).
Later, you'll use 'omou' (to think, to feel -- as in "I think japanese is better than french" or "I think japanese is interesting") to express them better. If I was any good at conjugating verbs, I'd give you examples. But I'm not, so I won't. Yet.
gambatte kudasai!
(do your best!)
Posts: 497
Joined: Mon 06.20.2005 3:44 am
---
Anti-Jenova wrote:

Konnichiwa minasan, watashi wa atarashii ni "The japanese Page". watashi no namae wa Anti-Jenova desu, Watashi wa Final Fantasy ga suki........eeto soushite anime to manga ga suki mo.

Nihongo wa omoshiroii desu to watashi wa nihongo no hou ga suki, yori furansugo

Please correct because its pretty much guarenteed to be wrong as i cant spell and im not sure about the last part but i will ganbaru
"Watashi wa thejapanesepage no atarashii menbaa desu." "Anime to manga mo suki desu." (mo replaces ga, wa or o)
Posts: 6480
Joined: Thu 09.29.2005 10:35 pm
---
---
Who is online
Users browsing this forum: No registered users and 7 guests