Samurai Page
Submitted by admin on Wed, 07/30/2008 - 10:48
Y

ou knew it had to happen... Well, here it is: SAMURAI - The Page!

---
HOW TO SPEAK LIKE A SAMURAI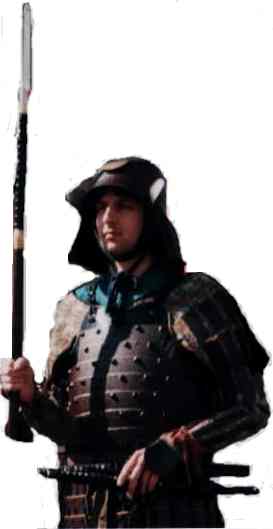 MOOD SETTING:
Imagine taiko drumming in the distance amidst a pale red sunset... (this is important)
---
1) でござる OR でございます ~de gozaru or ~de gozaimasu (polite, old fashioned form of desu - (to be))
Japanese: (Your Name) でございます。
Romaji: (Your Name) de gozaimasu.
Meaning: I'm (Your name)
NOTES: You probably know this verb from "ohayou gozaimasu!" 'gozaru' is a more polite form of 'DESU.' To sound more samurai-ish use this in place of DESU.

---
2) 拙者 sessha - I, me
Japanese: 拙者は熊のプーさんの用心棒でござる。
Romaji: sessha wa kuma no pu-san no youjinbou de gozaru.
Meaning: I am Winnie the Pooh's bodyguard.

VOCAB:

熊 kuma - bear
熊のプーさん kuma no pu-san - Winnie the Pooh (Mr. Pooh the bear)
の no - possessive ('s)
用心棒 youjinbou - bodyguard
NOTES: (the pronoun of choice with the modern Samurai! Pronounced with a slight pause between 'se' and 'sha')
---
3) 其方 sochi - you
Japanese: 拙者は其方が好きでござる。
Romaji: sessha wa sochi ga suki de gozaru.
Meaning: I likest thee. (a romantic samurai)
VOCAB:
は wa - topic particle; can be thought as, "as for... (me)"
が ga - subject particle
好き suki - to like
NOTES: This was mainly directed to a woman (from a man) Like SESSHA, SOCHI is not used in modern Japanese BUT everyone should know it.
---
4) かたじけない katajikenai - thank you, be thankful, grateful
Japanese: 蜂蜜をもらった熊のプーさんは、「かたじけない」と言いました。
Romaji: hachimitsu wo moratta kuma no pu-san wa "katajikenai" to iimashita.
Meaning: Having received honey, Winnie the Pooh said, "I am grateful."
VOCAB:
蜂蜜 hachimitsu - honey
を wo - direct object particle (honey)
もらった moratta - simple past of MORAU (to receive)
熊のプーさん kuma no pu-san - Winnie the Pooh
と言いました to iimashita - said; (TO is like a question mark that sets off the quote: IIMASHITA is the simple past of IU - to say)

NOTES: "HACHIMITSU WO MORATTA" is a phrase that attaches itself to KUMA NO PU-SAN. So a more literal translation would be "honey-received-Winnie the Pooh said thank you."
---
5) 斬り捨て御免 kirisute gomen - (I apologize in advance for this one...) After a samurai killed someone he would say this to the people around him. (lit. I cut him and threw him away - (but) I have the right)
Japanese: Use this when you would normally use '御免なさい (I'm sorry).'
Romaji: Use this when you would normally use 'gomen nasai (I'm sorry).'
Meaning: Although this gomen isn't saying one is sorry. It fits well with gomen nasai. Actually this gomen means 'right' or 'privilege.'