天敵 Natural Enemy
Submitted by admin on Mon, 08/04/2008 - 15:32

The word:

Closer look at the kanji:

B = Beginner | I = Intermediate | A = Advanced

天敵
ten teki
natural enemy

天の川 ama no gawa - the Milky Way [note the pronunciation is ama] [I]
天下一 ten ka ichi - best thing on earth [I]
天国 ten goku - heaven [B]
強敵 kyou teki - strong enemy [I]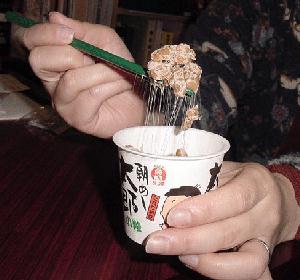 DISCLAIMER: What you are about to see may not present a fair coverage of the whole story. The present writer admits to have never actually tasted, but only to have smelled it and observed it from a distance.
---
SUGGESTED USAGE:
プーさんは忍術の訓練のあとで、ハチたちの強敵になった。
pu-san wa ninjutsu no kunren no atode, hachi tachi no kyou teki ni natta.
Pooh, after his ninja training became a formidable enemy of Beekind.
ABOUT SUGGESTED USAGE:

ネズミ nezumi - mouse, mice (mouses) :)


の no - 's; possessive marker mouse's natural enemy...


猫 neko - cat, cats, catkind


私 watashi - I 私の watashi no - my


納豆 nattou - natto or the-more-delicious-sounding-name: fermented soybeans