毒見役 Taste Tester
Submitted by admin on Mon, 08/04/2008 - 17:16
毒見役

taster (of food or drink) for poison


The word:

Closer look at the kanji:

B = Beginner | I = Intermediate | A = Advanced

毒見役
doku mi yaku
taster (of food or drink) for poison

気の毒 ki no doku - it's a pity, too bad [B]
食中毒 shoku chuu doku - food poisoning [I]
花見 hana mi - flower viewing [B]
悪役 aku yaku - the bad guy [I]
役に立つ yaku ni tatsu - useful [B]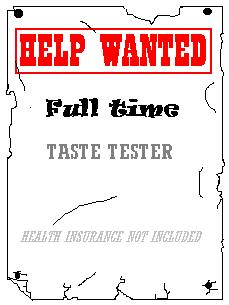 ---
SUGGESTED USAGE:
毒見役をして下さい,ね。
Please be my taste tester, ok?
doku mi yaku o shite kudasai, ne.
ABOUT SUGGESTED USAGE:
毒見 doku mi - This is the base form. Adding the yaku makes it someones job

して下さい shite kudasai - please do (something)

ね ne - a little added bonus to encourage the listener to obey. It is used to soften the request.

---