根負け Beat & Worn Out
Submitted by admin on Wed, 08/06/2008 - 13:03

The word:

Closer look at the kanji:

B = Beginner | I = Intermediate | A = Advanced

根負け
kon make
BEAT & WORN OUT

大根 dai kon - Japanese radish [B]
屋根 ya ne - roof, housetop [B]
勝負 shou bu - match, game, contest [I]
負んぶ on bu - carrying someone on one's back (piggy back ridding | usually written in hiragana) [onbu shite. - give me a piggy-back-ride!] [I]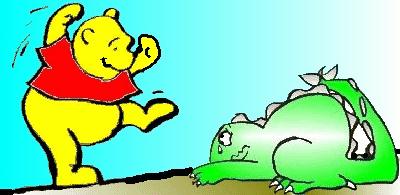 Perceiving the order of things to be in reverse, the victor joyously danced before humbled.
---
SUGGESTED USAGE:
ゴジラは熊のプーさんの熱心さに根負けした。
gojira wa kuma no pu- san no nesshin sa ni konmake shita.
Godzilla, perceiving Winnie the Poohs unbounded courage, admitted defeat.
ABOUT SUGGESTED USAGE:
ゴジラ gojira - Godzilla The Japanese gojira comes from gorira (gorilla) and kujira (whale)

熊のプーさん kuma no pu-san - Winnie the Pooh in Japanese!

の no - possessive particle

熱心さ nesshin sa - level of earnestness nesshin means eager, hard willed... & sa shows level or degree of...)

に ni - particle showing the nesshinsa caused the defeat