親ばか a Parent Who is a Fool for Child
Submitted by admin on Wed, 08/06/2008 - 13:16
親ばか

a Parent who is a fool for child


The word:

Closer look at the kanji:

B = Beginner | I = Intermediate | A = Advanced

親ばか
oyabaka
a Parent who is a fool for child

親 oya, shin parent, familiar, relative
ばか baka fool (kanji is 馬鹿)





親戚 shin seki - relative [B]
親切 shin setsu - kind [B]
親分 oya bun - boss (also yakuza (mafia) boss!) [A]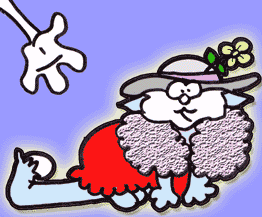 And so you see Muffy simply needs her 100 carot diamond leash to move up in society.
---
SUGGESTED USAGE:
私はペットに最新流行の服を着せるので、「親ばか」と呼ばれます。でも、決してそうではありません。この子が世界一きれいだからです。
watashi wa petto ni saishin ryuukou no fuku wo kiseru node,「oyabaka」to yobaremasu. demo, kesshite sou dewa arimasen. kono ko ga sekai de ichiban kirei dakara desu.
People say Im a fool for my pet just because I dress her in the latest fashions. But thats not it at all; its just she is the worlds prettiest pet.
ABOUT SUGGESTED USAGE:
私 watashi - I

ペット petto - pet

最新 sai shin - the latest

流行 ryuu kou - fashion, popular thing

服 fuku - clothing

着せる kiseru - to cloth This is the speaker putting cloths on the pet; to cause to be clothed

ので <