顔面蒼白 Pale Face
Submitted by admin on Wed, 08/06/2008 - 14:08
顔面蒼白
face becoming white or pale because of a sudden fear or shock


The word:

Closer look at the kanji:

B = Beginner | I = Intermediate | A = Advanced

顔面蒼白
(ganmen (face) souhaku (pale, blue & white))
face becoming white or pale because of a sudden fear or shock

顔 kao, gan face
面 men face, surface
蒼 sou pale, blue
白 haku white



笑顔 e gao - smiling face (smiling) [B]
似顔 ni gao - portrait, likeness [I]
仮面 ka men - mask [B]
面白い omo shiroi - interesting [B]
白熊 shiro kuma - polar (white) bear [B]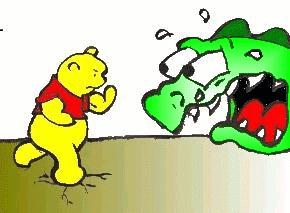 The lizard is no match for the muscular bear...
---
SUGGESTED USAGE:
ゴジラは熊のプーさんの筋肉を見て、顔面蒼白になった。
gojira wa kuma no pu-san no kinniku wo mite, ganmensouhaku ni natta.
Upon seeing Winnie the Poohs muscles, Godzillas face paled.
ABOUT SUGGESTED USAGE:
ゴジラ gojira - Godzilla The Japanese gojira comes from gorira (gorilla) and kujira (whale)

熊のプーさん kuma no pu-san - Winnie the Pooh

筋肉 kin niku - muscles

見て mite - see and... from: 見る miru - to see

になった ni natta - became a form of なる naru to become

---
Support those who Support TJP!