フィーバー Disco Fever
Submitted by admin on Wed, 08/06/2008 - 16:26

The word:

Closer look at the kanji:

B = Beginner | I = Intermediate | A = Advanced

フィーバー
fi-ba-
(disco) fever

- No Kanji! [B]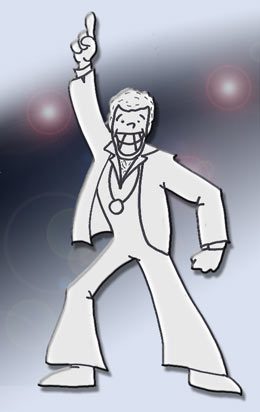 Thus Herbert began a new craze which made the older generation shiver...
---
SUGGESTED USAGE:
ねえ、ねえ、最新のダンスしっている?フィーバー、フィーバー!
nee, nee, saishin no dansu shitteiru? fi-ba-, fi-ba-!
Hey, do you know the latest dance? Fever!
ABOUT SUGGESTED USAGE:
ねえ、ねえ nee, nee - hey you used to get someones attention when you have something you want to say. Casual

最新 sai shin - the newest, latest saishin no ryuukou (latest fashion)

の no - possessive

ダンス dansu - dance yep, from the English

しっている shitteiru - know a more polite form of Do you know? is shitteimasu ka?; An even more polite form is gozonji desu ka?

フィーバー fi-ba- - fever from the 1970s disco craze comes this timeless and ever-so-useful Japaglish

---