降参 Surrender
Submitted by admin on Wed, 08/06/2008 - 18:59

The word:

Closer look at the kanji:

B = Beginner | I = Intermediate | A = Advanced

降参
kou san
surrender

降る furu - to fall (rain, snow) [B]
人参 nin jin - carrot [B]
参った maitta - Im beaten... (said with a sigh) [B]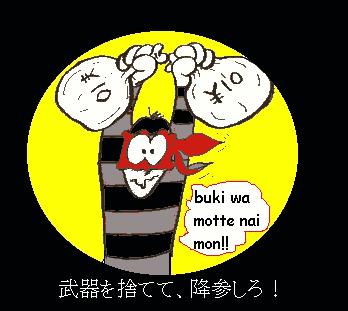 Soon after, the police returned the stolen 20 yen to the rightful owner...
---
SUGGESTED USAGE:
武器を捨てて、降参 しろ!
buki o sutete, kousan shiro!
Drop your weapon, and surrender!
ABOUT SUGGESTED USAGE:
武器 buki - weapon

捨てて sutete - throw away [from: 捨てる suteru]

しろ shiro - do it! [a form of する suru]

NOTE: - Dont go around shouting this at everyone you meet. Or if you do, please dont tell them who sent you!

---