[et_pb_section bb_built="1″ _builder_version="3.0.98″ background_size="initial" background_repeat="repeat-y" custom_margin="0px||30px|" custom_padding="0px||0px|" inner_shadow="on"][et_pb_row _builder_version="3.0.98″ make_fullwidth="on" make_equal="on"][et_pb_column type="4_4″][et_pb_code admin_label="Breadcrumbs" _builder_version="3.0.97″][wpseo_breadcrumb][/et_pb_code][/et_pb_column][/et_pb_row][et_pb_row make_fullwidth="on" custom_padding="0px||0px|" custom_margin="0px||0px|" make_equal="on" background_color_2="#fbfaf6″ _builder_version="3.0.98″][et_pb_column type="1_4″][et_pb_text _builder_version="3.0.101″ background_layout="light" disabled="off" disabled_on="on|on|"]
The Japanese Toilet
Everything you need to know… before you go.
This is a real issue… It's a dirty subject, but we all use it everyday — the toilet. I am knowledgable on the men's toilets only, but aside a few minor details, I imagine they aren't too different from the ladies'.
The first time you use a Japanese toilet it feels strange, but you get used to it quickly. Actually a majority of toilets you will use in Japan (except in old buildings and schools) are western style or have the option of a Western style toilet. Your choice is either the Japanese style squat type or the western type with a lot of buttons that do strange things.
An interesting fact is nearly all toilets made in Japan are from a company called TOTO.
The squat type (Japanese style) Japanese toilet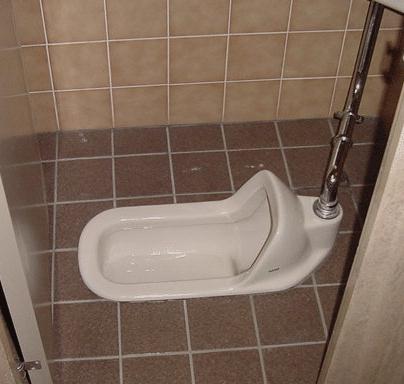 You walk into the toilet and close the door (let's hope there is a door). Then turn to face the flusher or the covering (in photo to the right) and squat etc… I bet in all your toilet-life you have never had to use your legs, but now you must not only to support yourself, but to keep the balance in the right position just before releasing the… well you know. And be warned the first time will seem strange to you. Don't worry, you will get used to it. After you are finished flushing and doing the proper procedures, stand up SLOWLY. Your legs may be asleep depending on how long you were down.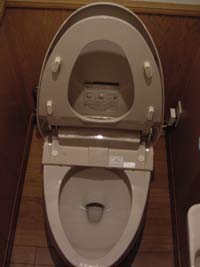 The non-squat type (Western style) Japanese toilet
Use this one just as you would back home, EXCEPT… DON'T TOUCH ANY BUTTONS. If you do, you may find an unpleasant surprise coming up from the depths. The toilets are high-tech. They have seat warmers, bottom washers, and a number of other things that are scary for the first time gaijin to be messing with!
A friend and I went to a restaurant together a few years ago. He excused himself to the toilet while I ordered. He came back about 10 minutes later with a pale, white face. I said, "Are you ok? What happened?" He said, "Don't ever touch those toilet buttons!" He claims he screamed loudly when a gush of warm water came unexpectedly from below. I didn't hear him, but the restaurant was noisy at the time.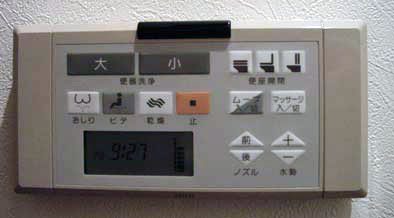 Well, that is the bit on toilets in Japan. They really aren't as scary as I make them out to be, really.
Toilet words
トイレ toire – toilet – from the French word apparently. The most common way to refer to the toilet in Japanese

( お ) 手洗い (o) te arai – "(the place to) wash one's hands" or the toilet

WC – often toilets are marked with these 2 letters. They stand for the old-fashioned way of calling a toilet a "Water Closet"

便所 ben jo – The actual Japanese word for toilet – sounds like the English "BANJO on my knee"

水洗便所 sui sen benjo – a flush type of toilet. I remember the first time I heard this word. I was at school during the morning teacher's meeting. I kept hearing "SUISEN" over and over again. ( suisen in education means a recommendation for students going to another school upon graduation – but of course, I didn't know that!) I looked it up in my dictionary and only found " suisen benjo ." I was puzzled as to why the senseis were talking about a flush toilet for 15 whole minutes!

汲み取り便所 kumi tori benjo – the non-flush drop type of toilet

トイレットペーパー toiretto pe-pa- – Toilet paper

厠 kawaya – Another word for the bathroom. According to the dictionary I am using, the word came from a small hut (や) over a stream or 川 kawa thus kawaya

雪隠 secchin – Another word for the bathroom
金隠し kin kakushi – Yet another word – this may be a little embarassing, so it isn't recommended.
[/et_pb_text][et_pb_text _builder_version="3.0.101″ background_layout="light" disabled="off" disabled_on="off|off|on"] [/et_pb_text][et_pb_text admin_label="Enjoy & Happy Sharing!" _builder_version="3.0.98″ background_layout="light" text_font="Dancing Script|700|||||||" text_font_size="41px" text_text_color="#096096″ saved_tabs="all" global_module="30020″]

Enjoy & Happy Sharing!

[/et_pb_text][et_pb_sidebar admin_label="Social Share" _builder_version="3.0.105″ area="et_pb_widget_area_9″ orientation="left" show_border="off" background_layout="light" header_font="||on||||||" /][et_pb_comments _builder_version="3.0.106″ show_avatar="on" show_reply="on" show_count="off" background_layout="light" header_font_size_tablet="51″ header_line_height_tablet="2″ custom_button="off" button_icon_placement="right" /][/et_pb_column][et_pb_column type="1_4″][et_pb_sidebar area="sidebar-1″ show_border="off" _builder_version="3.0.106″ border_radii="on|0px|0px|0px|0px" header_font="|700|||||||" header_text_color="#ffffff" orientation="left" background_layout="dark" body_text_color="#2ea3f2″ header_text_align="center" background_color="#fbfaf6″ saved_tabs="all" global_module="29980″ /][/et_pb_column][/et_pb_row][/et_pb_section]

[/et_pb_text][/et_pb_column][et_pb_column type="1_2″][et_pb_text admin_label="Edit Content Here" _builder_version="3.0.83″ parallax="on" module_alignment="left" custom_padding="30px|20px|15px|20px" background_layout="light"]