[et_pb_section bb_built="1″ background_color="#ffcc99″ inner_shadow="on" _builder_version="3.0.75″ background_image="https://thejapanesepage.com/wp-content/uploads/2017/08/bg-lessons.jpg" background_size="initial" background_repeat="repeat-y" custom_margin="0px||0px|" custom_padding="0px||0px|"][et_pb_row custom_padding="0px||0px|" custom_margin="0px||0px|" _builder_version="3.0.75″ make_equal="on" module_alignment="center" background_color_1="#ebe0ce" background_color_2="#fbfaf6″ background_color_3="#ebe0ce"][et_pb_column type="1_4″][et_pb_text admin_label="Left Menus" disabled_on="on|on|" _builder_version="3.0.89″ module_alignment="left" custom_padding="30px|10px|15px|10px" background_layout="light" disabled="off" /][/et_pb_column][et_pb_column type="1_2″][et_pb_text admin_label="Edit Content Here" _builder_version="3.0.89″ parallax="on" module_alignment="left" custom_padding="30px|20px|15px|20px" background_layout="light"]
舌切りすずめ The Cut-Tongue Sparrow
| | |
| --- | --- |
| | The 舌切り雀 story is a traditional Japanese folk tale about a kind old man, his mean wife, and a sparrow. Hiragana and very basic Japanese is required. Online e-book with Audio. |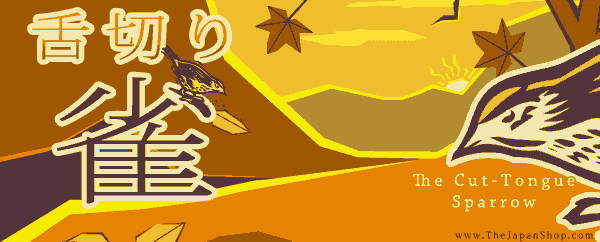 (Support TJP! Purchase this as a $5 download to receive a slow and normal MP3, Interactive Flash e-book, and a printable PDF)
The Cut-Tongue Sparrow Story
The 舌切り雀 story is a traditional Japanese folk tale about a kind old man, his mean wife, and a sparrow. Beginners can get a lot out of this, but hiragana and very basic Japanese is required.
The entire story is presented here at theJapanesePage.com with audio absolutely free. If you find it useful, you may want to purchase the instant download for only $5. Doing so will be a great way to support TJP and give you many extras (see box below)
This story is from the $5 Instant Download Japanese Readers collection at TheJapanShop.com.
While the complete story is here for free, If you purchase the pack you will get 31 Megs of:
An E-Book in Flash for interactive reading and listening
Click on ANY sentence to hear it read.

A 21 Page PDF (for printing)

A slow MP3 recording of the story

A normal speed MP3 recording

And as a special bonus, "10 Kotowaza You Should Know" with PDF and 10 MP3s of each example sentence

Works with PCs or Macs (the only difference is PC users use the .exe file for the Flash E-Book and Mac users use the flash embedded HTML file in the Data folder)
In the flash file, click on any sentence in the story to hear it instantly read by a native speaker. Print the PDF for offline review. The PDF and Flash program contain the story, a running glossary, and extensive grammar and vocabulary notes. The Flash program also has a button to display a loose English translation if needed.
ALL ONLY $5!
If you like this story, please consider purchasing the $5 download. Not only will you be GREATLY helping support TheJapanesePage.com, but you will also recieve all the extras above. More…
[/et_pb_text][et_pb_text admin_label="Mobile Display Only" disabled_on="off|off|on" _builder_version="3.0.89″ module_alignment="left" custom_padding="30px|10px|15px|10px" background_layout="light" disabled="off" /][/et_pb_column][et_pb_column type="1_4″][et_pb_text admin_label="TJP Ads (Right)" disabled_on="off||off" _builder_version="3.0.75″ module_alignment="left" custom_padding="30px|10px|15px|10px" custom_css_after="https://thejapanesepage.com/wp-admin/post.php?post=24624&action=edit#" background_layout="light" border_color="#bfae92″ border_width="3px" border_style="outset"]
Is this site helping your Japanese? Do you have a spare $1 to help Clay pay the bills?
---
DarwinGenome Guides – helpful academic writing tips for students
Expert assistance with languages homework help for every student at ezassignmenthelp
123Writings.com writes admission essays since 2013
[/et_pb_text][/et_pb_column][/et_pb_row][/et_pb_section][et_pb_section bb_built="1″ inner_shadow="on" _builder_version="3.0.73″ custom_padding="10px||10px|"][et_pb_row custom_padding="||10px|" padding_bottom_1="10px" padding_bottom_2="10px" _builder_version="3.0.73″ background_size="initial" background_position="top_left" background_repeat="repeat"][et_pb_column type="1_2″][et_pb_text admin_label="Kanji 100 eBook For FREE" _builder_version="3.0.75″ background_layout="light" text_orientation="center" border_style="solid" module_alignment="center" background_position="top_left" background_repeat="repeat" background_size="initial"]
Get Clay's Kanji 100 eBook For FREE
[/et_pb_text][et_pb_image src="https://thejapanesepage.com/wp-content/uploads/2017/09/TJS-Newsletter-FB-ad.jpg" url="http://www.japanesereaders.com/getmykanji/" align="center" module_class="rr-module-hover et_animated et_animated et_animated" _builder_version="3.0.73″ animation_style="bounce" /][/et_pb_column][et_pb_column type="1_2″][et_pb_text admin_label="Two Tocks for FREE" _builder_version="3.0.75″ background_layout="light" text_orientation="center" border_style="solid" module_alignment="center"]
Claim Your Two Tocks Before Midnight eBook for FREE
[/et_pb_text][et_pb_image src="https://thejapanesepage.com/wp-content/uploads/2017/09/fb-ad-clay-landing-page-6.jpg" url="http://clayboutwell.com/cb-signup" align="center" module_class="rr-module-hover et_animated et_animated et_animated" _builder_version="3.0.73″ animation_style="bounce" /][/et_pb_column][/et_pb_row][/et_pb_section][et_pb_section bb_built="1″ background_color="#f2dab7″ inner_shadow="on" _builder_version="3.0.73″ custom_padding="10px||10px|"][et_pb_row _builder_version="3.0.73″ background_size="initial" background_position="top_left" background_repeat="repeat"][et_pb_column type="4_4″][et_pb_image admin_label="JapanesePod101 Ads" src="https://thejapanesepage.com/wp-content/uploads/2017/09/japanese_desktop_728x90.png" url="http://www.japanesepod101.com/member/go.php?r=157404&i=b31″ align="center" _builder_version="3.0.75″ show_in_lightbox="off" url_new_window="off" use_overlay="off" always_center_on_mobile="on" border_style="solid" force_fullwidth="off" show_bottom_space="on" /][/et_pb_column][/et_pb_row][/et_pb_section]