First let me say, the Nintendo DS is simply awesome.

Having a Stylus not only makes game play more interesting, it also makes kanji training software possible
Two screens (albeit not the highest resolution) are better than one
Inexpensive
Large software library (not just games)
Not just games! Kanji study software; brain training software; educational software; and much more
REGION FREE – This means you can play Japanese software on a US Nintendo DS. I use my American DS all the time with Japanese software without any problems. (I have heard the only DS you cannot use Japanese software with is the Chinese DS. I am not sure why)
Small enough to fit in a pocket; closing the shell pauses the "game." This makes the DS both portable and available for the spare minute you may have throughout the day

If you don't have a DS and want one, please consider buying one through this Amazon link:
Nintendo DS Game Systems

(it helps support this site!)

It isn't perfect–I'd like to see a higher resolution for example–but what a great device for playing games AND studying Japanese.

There are many sites where you can learn about great DS games but for our purposes, we will talk about software for learning or practicing Japanese. Basically there are games that can be used for Japanese practice and there is software made specifically for learning Japanese. Unfortunately in the latter group, most software is made for native Japanese speakers to improve their Japanese. As a result, there isn't anything great for early beginners.
DS Software for Studying Japanese
These software/games are made specifically for native Japanese to improve their Japanese or kanji.
It would be better for beginners to wait until basic Japanese grammar and vocabulary is mastered
before buying any Japanese software for the DS.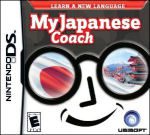 My Japanese Coach




From Alexdal: It's the first real japanese course for foreigner! Very good and very big (but you have to start from beginner even if you know a lot of words)
Read this post from Phreadom detailing a few errors in the program–Must Reading for those interested in the game.
LEVEL: Beginner+

漢字そのままDS楽引辞典




This is perhaps the most popular Japanese DS 'game' for studying Japanese. It basically turns your Nintendo DS into a Japanese electronic dictionary.
Let me say first, this makes a poor denshi jisho compared to the top of the line dictionaries out there, but, hey, it is much cheaper.
It uses the small (but decent) Genius J-E and E-J; has no kanji dictionary (despite the name); and unlike stand-alone dictionaries, the DS isn't made
to be a dictionary per se. But for the price one can hardly complain! It certainly gets the job done.
NEW! If you have this software, check out JohtoKen's In-depth Tour on 漢字そのままDS楽引辞典 – Introductory
Fundamentals and Looking Up Words blog post for clues to get the most out of your software.
More on my blog… and here is a simple video I made of it.
LEVEL: Upper Beginner+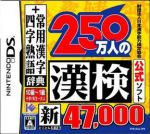 250万人の漢検+常用漢字辞典+四字熟語辞典 2,500,000 People's Kanji Test + Joyo Kanji Dictionary + 4 kanji compound Dictionary




(note the Amazon link is to an earlier version 200mannin–but I believe the shippers will ship the newest version)
This is probably my favorite of the bunch. Again, it isn't great for beginners or even upper beginners because of the vocabulary needed to
use it effectively, but it can be a great way to practice writing kanji or for learning the readings.
LEVEL: Intermediate+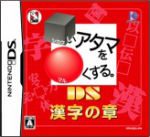 シカクイアタマをマルクするDS漢字の章 shikakui atama o maruku suru DS kanji no sho
Make your square head into a round one: the Kanji Chapter 漢字の章


This game is made for Japanese children preparing for the Junior High School kanji entrance exam.
This software not only reviews kanji, but it fully explains (in simple Japanese) each problem.
LEVEL: Upper Beginner+
The following are games made for practicing kanji or Japanese in general but I haven't tried them enough to comment just yet: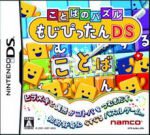 ことばのパズル・もじぴったんDS
kotoba no pazuru moji pittan DS



I haven't played this (I intend to soon), but here is the description from Amazon:
Mojipittan DS is a fun and adorable Japanese word game for Nintendo DS. Practice and test your Japanese skill with Mojipittan–works with any DS.
Recommended for Intermediate and Advanced learners of Japanese language.
LEVEL: Intermediate+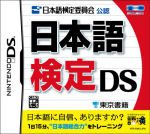 日本語検定DS nihongo kentei DS Japanese Test
I haven't tried this, but it is an all-around Japanese trainer: kanji, grammar, vocabulary, expressions, etc.



More later!
LEVEL: Intermediate+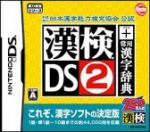 漢検DS2+常用漢字辞典 kanken DS 2 + jouyou kanji jiten – Kanji Test DS 2 + Joyo Kanji Dictionary
I haven't played with this enough to comment or to know how it differs from the above 250万人 software… Will update–or maybe someone can comment?


There are 'games' like the next one that try to trick you into learning kanji. I'm not sure.
I think I would prefer something more on the line of the 250 mannin no kanken.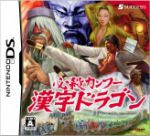 必殺カンフー漢字ドラゴン hissatsu kanfu- kanji doragon – Deadly Kung fu Kanji Dragon (sounds very friendly, huh?)


Games for Practicing Japanese
And then there are DS Japanese games/software that are made purely for enjoyment in the Japanese market but can be an excellent
way for those learning Japanese to practice their reading skills.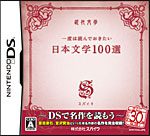 日本文学100選 nihon bungaku hyaku sen 100 Japanese e-Books



This is a neat idea. Take 100 out of copyright books and sell them as e-books for the DS.
If the DS screen resolution was a little better, I would LOVE this. Even still, it is readable
(although complicated kanji often look like a solid block) and very enjoyable. Furigana is given for difficult kanji.
'Easy' kanji has no furigana so I'd say it is best for those who know about 1000 kanji.
Awesome selection of Japanese classics! Every student should be familiar with many–if not all–of these books.
LEVEL: Intermediate+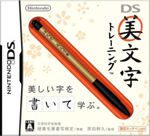 美文字トレーニング bimoji tore-ningu Calligraphy Training



This is another neat idea. With computers being everywhere, many Japanese have neglected the art of writing.
This software trains the use to write 'beautiful letters.' It even comes with a brush-stylus.
I haven't tried this yet, but I suspect it would be great for all levels of learners–especially beginners.
LEVEL: Beginner+?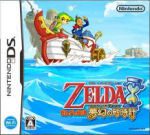 ゼルダの伝説: 夢幻の砂時計 zeruda no densetsu: mugen no sunadokei Legend of Zelda: Phantom Hourglass



This was a game I picked up the other day and have enjoyed it greatly. One really nice feature (for learners of Japanese),
is tapping any kanji will make furigana appear. There is a lot of text to read which makes this a good and fun learning game.
Please see my blog for screenshots showing the furigana.
LEVEL: Beginner+
JohtoKen wrote a very detailed review of なぞっておぼえる 大人の漢字練習 完全版 in a blog post
here. It looks like a very good DS software. Check it out.
---
This is a work in progress. There are of course many, many games I haven't mentioned.
If you know of something else or have an opinion on any games listed, please leave a comment.
I'll try to add comments to the page as we go along.
[su_spoiler title="The "et cetera" Articles" open="no" class="my-custom-spoiler"]
[su_menu name="Fun"]
[/su_spoiler]