David Wollard on giving a lecture to a group of ER/ICU nurses in Japan regarding our institution and a bit of how we practice ER nursing in the States.
April 2004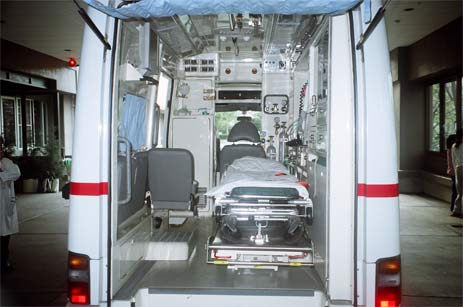 "And now for something completely different….." That is an old line from one of the Monty Python routines. I thought it was somewhat appropriate for my adventure to Japan in April 2004. It was not my first trip to the Land of the Rising Sun, nor I hope will it be my last.
My profession is nursing. My job is as an ER nurse in a University Medical and Trauma Center. It is a teaching institution and as such has many nurses, MDs, PhDs and other staff from many countries. I have long been involved in Emergency Care in some fashion, but wondered what it was like in other countries and how we/they compared.
Via a friend in Japan who is a Paramedic and Lt. with the Yokohama Fire Bureau, arrangements were made for me to lecture to a group of ER/ICU nurses there regarding our institution and a bit of how we practice ER nursing here in the States.
My goal is to initiate an exchange program between ER nurses there and here. I also hope to be involved in teaching Trauma Nursing there as well.
The system of nursing in Japan is remarkably different there when compared and contrasted with practice here in the US. I found the nurses there extremely warm and caring. I toured their ER, dicussed practice issues, methodologies for treating trauma and critically ill patients, and gained a great respect for my colleagues there.
The program is still in development and we have a way to go, but there is discussion that they will come to visit here some time this year. My hope is that we can provide as warm and inviting an evironment for them that they did for me and my wife who accompanied me on the trip.
Should my efforts bear fruit, it will be the first in the state, and possibly the South done not with student nurses, but licensed professionals.
If any of you know Japanese nurses who might like to come to the US to observe, let me know. Certainly they may email me at: carkrenbudo @ sbcglobal.net I can read kana and some kanji. Also of course it is beneficial if they have at least basic English skills. I hope for those nurses at my facility, to provide basic instruction in Japanese in order to make their experience in Japan less stressful. I hope that this program will help bridge the gap between our cultures and develop and/or cement life-long friendships.
David Wollard, RN, BSN
Arkansas